Sophos Home Premium is the upgraded version of Sophos Home Free

edition and it is a comprehensive security solution for protecting your home devices, primarily PC's and Mac's. Using artificial intelligence it blocks advanced viruses, malware, trojans, exploits and ransomware attacks.
Sophos is a British security

software and hardware company established back in 1985. Today their products help secure the networks used by 100 million people in 150 countries and 100,000 businesses. 
As they say, "Our products allow you to secure every endpoint of your network, from laptops to virtual desktops and servers, to web and email traffic and mobile devices. What's more, securing these devices is made possible through products that fit your precise needs. We ensure your network's security by providing the one thing no one else can: Simplicity."
What is Sophos Home Premium And How To Get It
Sophos Home Premium

is the upgraded version of Sophos Home Free edition and it is a comprehensive security solution for protecting your home devices, primarily PC's and Mac's.
Visit this page

to see the comparison between the Free edition and Premium edition for Windows based devices.
For Mac based devices, the comparison is given on this page

.
You can start using Sophos Home Premium by registering on its home page

.
What Are The System Requirements To Install Sophos Home
The system requirements for installing Sophos Home are as followed:
Operating System Versions
Windows 7, Windows 8/8.1, or Windows 10
Mac OS X 10.12 Sierra or higher
Memory
Windows: Minimum 1 GB of RAM
Mac OS: Minimum 4 GB of RAM
Free Disk Space
Windows: Minimum 1 GB of free disk space
Mac OS: Minimum 4GB of free disk space
Web Browsers for the Sophos Home Dashboard
Microsoft Edge, Microsoft Internet Explorer 10 or later, Apple Safari, Google Chrome, Mozilla Firefox
How to Install Sophos Home Premium
After successful registration, you will get access to the Sophos Home Dashboard, a centralized place where you manage your account and devices being protected. 
The best thing is that the management dashboard is cloud-based and you can access it from whichever device you like and whenever you want.
The installation of Sophos Home begins by clicking the Add New Device button. You will be prompted to install the protection on the device currently being in use (intended for the Sophos Home Administrator).
The second option is to copy the special link provided below and send it to all the computers you want to secure (for example: a family member, cousin, friend, etc). After opening the link, they will be prompted to download the Sophos Home Endpoint Software installer for their computer.
After the installation, the respective device will appear in the Sophos Home Dashboard.
Sophos Home Dashboard Overview And Features Walk-through
Sophos Home Dashboard is pretty simple and easy to understand. If everything is good, then the computers are green colored, however, if there is a problem there will be a colored notification near the respective device that actually requires more attention.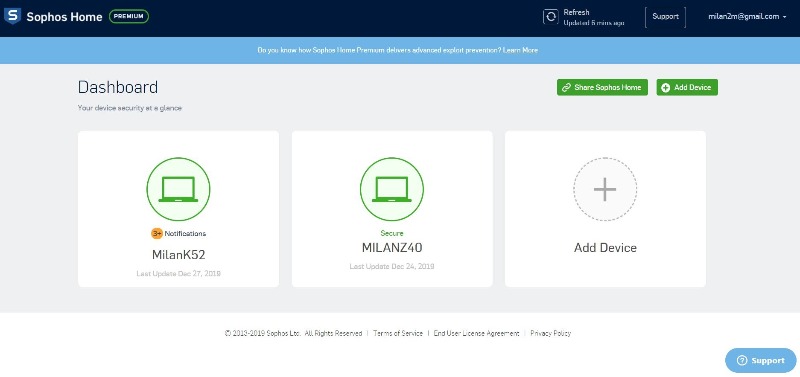 Clicking on each of the devices gives you all the details regards the security status and available configuration settings: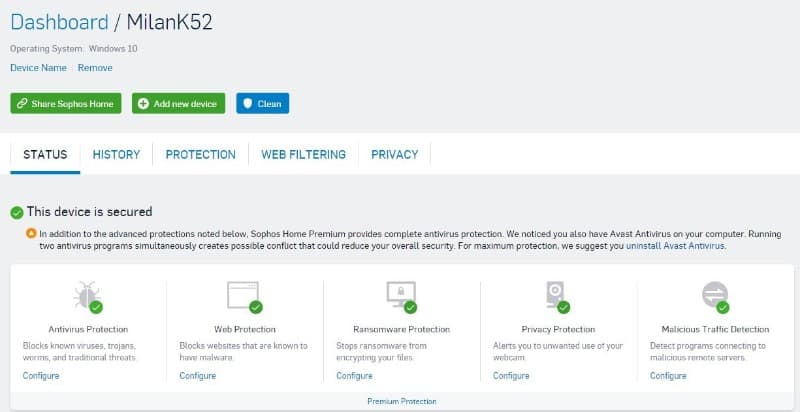 Sophos Home Premium Features

:
Artificial Intelligence and Advanced Threat Protection: taking advantage of AI to detect and block zero-day malware;
Anti-Exploit Protection: Secures vulnerable applications against threats;
Antivirus Protection: Blocks known viruses, trojans, worms, bots, potentially unwanted apps (PUAs) and traditional threats.
Web Protection: Block browsing to the categories of websites you choose.
Ransomware Protection: Stops ransomware from encrypting your files.
Privacy Protection: Alerts you to unwanted use of your webcam.
Secure Online Banking: Secures banking and credit card information against malicious third parties and keylogger software
Malicious Traffic Detection: Detect programs connecting to malicious remote servers.
Remote Management: Manage computer security for those who matter to you, wherever they are (in the same house, same country or anywhere in the world)
If Sophos detects something wrong on any of the devices it will immediately send an email alert to you but also you notice that in the Dashboard as a color-coded alert depending on the severity:
green = informational, orange = medium severity and red = important events.
You need to pay extra attention to events marked with red color or marked as "threat".
How to Scan Computer With Sophos Home?
In order to scan the computer with Sophos Home, all you need to do is go to Windows Explorer, right-click on "Computer" and choose "Scan with Sophos Home".
The same procedure is if you want to scan a particular folder or file on your computer. Right-click on it and choose "Scan with Sophos Home".
Or, if you have access to the Sophos Home Dashboard, you can initiate the scan remotely by clicking the "Clean" blue button.
Does Sophos Home Include Firewall?
No, Sophos Home does not include a firewall module in the endpoint software.
What is the difference between the Free and Premium versions?
Sophos Home Free

includes always-on antivirus, parental web filtering, and remote management of up to three devices. Sophos Home Premium

goes far beyond traditional antivirus to deliver advanced, real-time protection from the latest ransomware, malicious software, hacking attempts, and more – for up to 10 devices. You can see the complete breakdown here.
How much does Sophos Home Premium Cost?
The price for Sophos Home Premium depends on the chosen subscription period, but in general 1 year licence is $60 for protecting up to 10 devices.
This means that in scenario when you purchase 1 year licence for 10 devices, it will cost you $5 per month for 10 devices, or securing one device will cost you $0.5 per month, which is an unbeatable price for a premium level of security. 
From time to time, Sophos runs promotions and the price could be 50% off.
You can check the latest price on this link

.
How Does Sophos Home Work?
"Sophos Home takes security beyond old-school antivirus to deliver advanced, real-time protection from the latest ransomware, malicious software, and hacking attempts – all forms of developing cybercrime! Plus, it's incredibly easy-to-use, whether you're simply securing your own laptop or managing the security of multiple devices in the rest of the house or around the world."
After you install Sophos Home endpoint on all the devices you want to secure, refresh the Dashboard and all devices should be displayed. For each device there are five crucial components of the protection:
Antivirus Protection
Web Protection
Ransomware Protection
Privacy Protection
Malicious Traffic Detection
For each of these components, you can additionally fine-tune the settings and configure exceptions what "not to be" protected or scanned (such as skipping local folder, application, certain websites or similar).
Sophos Home Premium – Pros and Cons
Pros:
Overview of all devices into one single Dashboard.
Premium protection against viruses, malware, keyloggers, malicious websites, exploits, master boot record protection, safe online banking, etc.
Enhanced scanning using artificial intelligence; 
Inexpensive; 
Cons: 
Firewall functionality not included in the endpoint
Blacklisting not available in Web Filtering section, only whitelisting;
Points Of Improvement
Sophos offers free security tools like Sophos Mobile Security (for both android and Apple smartphones) and Sophos Antivirus for Linux, for example.
It would be really nice if we could see also smartphones and Linux devices under the same umbrella in Sophos Home. The word "Home" will start making more sense with this.
Another thing is that Firewall functionality is missing in the Sophos Home endpoint. This should be seriously taken into consideration in future product development. 
Web Filtering also could be improved. In the Website Exceptions besides the white list, there should be a blacklist as well. For example, at the moment we can't block specific Social Media like Facebook, etc.
Conclusion and Final Words
Sophos did a breakthrough with the Sophos Home because it consolidates protection of up to 10 devices into one single dashboard that is easy to understand and operate. 
Each Sophos Home endpoint pulls updates from the Sophos global database and transmits the "health status" back to the Dashboard where you can take action upon it. 
Besides the traditional antivirus protection, it also includes web protection, Ransomware protection, privacy protection and malicious traffic detection. 
Each of these features is configurable to a certain level, for each of the devices being secured.
Although there are points of improvement to be made, considering the price per device per month while having the premium level of security, Sophos Home Premium edition is absolutely worth the consideration.
Register for Sophos Home Premium with a 30 days money-back guarantee

.