After releasing couple of individual security solutions for Android, Linux, Windows and Mac devices – Sophos continues with their practice to provide tools

 that help you to additionally harden IT security in the home. Their latest security product which has recently been released is "Sophos Home

" – it is free commercial-grade security for the home. It protects you from malicious software, inappropriate websites and viruses. It is a light version of Sophos Home Premium edition

. And best of all, you don't need a dedicated device and it is free!
This product is built to protect up to 10 devices, either they are Windows or Mac devices. Protecting other devices like Android or Linux is not confirmed yet. Since this product is currently in BETA, I assume we could expect that in near future. Meanwhile, you may consider using their individual products I've mentioned before.
[Tweet "You don't need to be IT expert to protect all your home devices. Try Sophos Home"]
How does Sophos Home work?
Actually, you don't need to be an IT expert to start using Sophos Home. Right after the registration

, you are given an access to a simple web-based dashboard where you can add your own computer, for the beginning.

For the rest of the home devices you just need to pass on the link with the installer either through email or any kind of IM message: Skype, Facebook, Viber, etc.
After you setup all the devices you want to protect, refresh the Dashboard and you should see them all. For each device you may turn ON or OFF the four crucial components of the protection:
Automatic Virus Protection
Potentially Unwanted Application detection
Web Protection
Web Category Access
For each of these components, you can configure exceptions what "not to be" protected or scanned (such as skipping local folder, application, certain websites or similar). General recommendation is all four security components to be always ON, so you can monitor all security components for all devices through the Dashboard.
Sophos Home – Pros and Cons
Another good thing is that you can initiate "SCAN" action for each device within the Dashboard – if the device is not currently online, the very next time it appears online, a "scan" action will be issued.
If something goes wrong on some of the devices, you will see a color-coded alert depending on the severity: green = informational, orange = medium severity and red = important events. You need to pay extra attention to events marked with red color or marked as "threat".

The negative side is that you can't actually specify what exactly to be blocked. For example, if you want to specify only Facebook to be blocked – this can't be done at this moment in Sophos Home.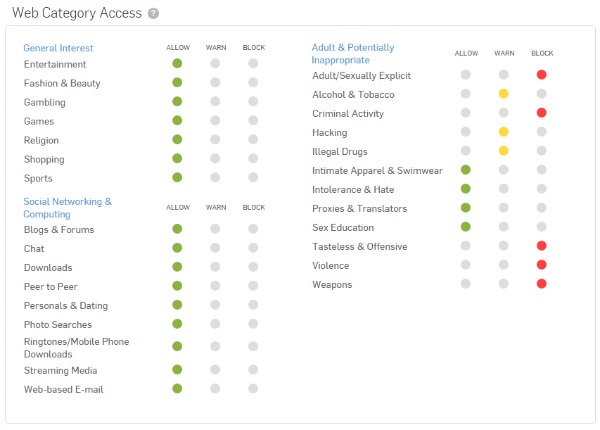 Future improvements?
Generally speaking, Sophos did a great job with Sophos Home – it is a step forward in improving security and consolidating all home devices into single Dashboard which gives you the devices security status at a glance. Hopefully, user reviews (like this one) will give them directions how to further develop and improve their product. Thumbs up, Sophos!