If you are a businessman or PR responsible for your company, or even a person who loves to make connections with new people, then exchanging (business) cards appears to be a quite normal procedure. But, over the time number of collected cards can become enormous and you may find yourself in trouble how to organize your business cards.
It is clear that having a smartphone is not only "Calling" and "SMS-ing" nor "Liking" and "Chating", but there are much more benefits. And everybody knows that. For example, having tons of free apps on the Internet is the right way how to transform your smartphone into Super-Gadget!
Thus, why not to use your phone to digitalize and organize all your biz cards?
There are plenty downloadable apps for this purpose: some of them work offline, some of them require Internet connection, and some require registering first.
Dilemma is which one to choose?
In this article we are reviewing 3 apps specifically designed for Android phones and which do not require Internet connection for basic operations i.e. they work offline. Good thing is that OCR

(Optical Character Recognition) happens on the phone.
We did the reading on ten business cards with each one of following apps:
1. CamCard Lite

: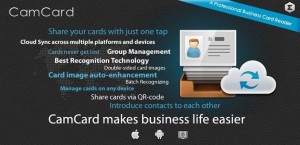 2. ScanBizCards Lite

: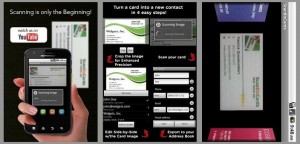 3. WorldCard Mobile Lite

: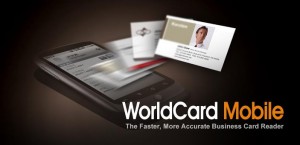 We used the free versions only to evaluate the range of capabilities of the mentioned apps.
And here are the results:
CamCard Lite
ScanBizCards Lite
WorldCard Mobile Lite
Scanning quality
Excellent , with minor errors when extracts address
Very good, sometimes with minor errors
Very good with minor errors
Batch mode scanning
Yes
No
No
Trimming the card
Automatic
Manual
Automatic
Card holder (Groups/Folders)
Yes, with password protection
Yes
Yes
Backup/Restore
Yes/Yes
Yes/ No
Yes/No
Scanning languages
English, Chinese, Danish, Dutch, Finnish, French, German, Hungarian, Italian, Japanese, Korean, Norwegian, Portuguese, Spanish, Swedish
English, French, German, Italian, Spanish, Czech, Danish, Dutch, Finnish, Greek, Hungarian, Lithuanian, Norwegian, Polish, Portuguese, Romanian, Russian, Serbian, Slovakian, Slovenian, Swedish, Turkish, Vietnamese
English, German, French, Italian, Spanish, Dutch, Portuguese
Works offline
Yes
Yes
Yes
Option to register online for more features
Yes
Yes
No
Required Android version
2.0 and up
2.2 and up
2.0 and up
Operations:
Sharing contact information via SMS, Email, QR CodeExport contacts to vCard or Excel filesPersonal Notes for each card 

Manage and sync cards across multiple devices

 

Merge with existing contacts

 

Supports double-side cards

Sharing contact information via SMS, EmailExport contacts to LikedIn, Salesforce, SugarCRM etc.Personal Notes for each card 

Supports double-side cards

Sharing contact information (SMS)Export contacts to Phone contacts, vCard, Google or Exchange contactsIntegration with Facebook, Twitter, LinkedIn 

Creating contacts from email signature

Limitations in Lite version
save 20 cards in the first week, and two more per week afterwards
Add 2 contacts per week
You can only save 50 cards in card holder after recognition
Miscellaneous
Create CamCard account to experience more advanced cloud service
Register online to explore more features using Web Sync option (backup cards online)
/
For detailed and most updated information for each one of these apps, you can always visit their home page either on Google Play or on their website.
General recommendation: During the reading process make sure there is enough day-light in the room or use lamp. In both cases be sure there are no shadows over the cards.
Conclusion: CamCard Lite is currently app with richest set of features and highest ratings from the users. Having the PRO version with all mentioned features for a symbolic price just worth's it.
We believe that after reading this article you'll be able to make right choice and get the most appropriate one!