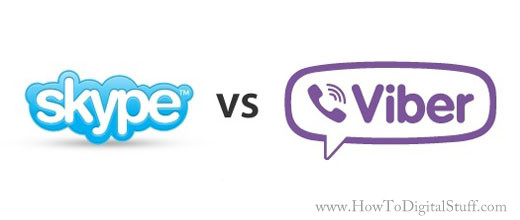 It has been 10 years since Skype has entered the communication era and since then it has developed into the number one PC software that enables communication throughout the planet. In those 10 years, Skype has managed to overpower Windows Live Messenger, and now the question in the Android Era is – Will Skype remain on the throne with Viber

stepping into the PC realm?
Well, it is too early to say, bus as far as things go, Skype is still the favorite software to use for free audio and video calls no matter where you are.
Both, Skype and Viber offer free audio and video calls, free messaging, free image sharing, conference conversation and etc. But only one of them keeps its quality levels high, and that is Skype.
Skype is available on PC for Windows 2000, Windows XP, Windows Vista, Windows 7 and Windows 8, and supporting the 32-bit and 64-bit Windows. Viber is available for Android, BlackBerry, Windows Phone, Microsoft Windows and Mac OS X. This brings us to an important fact about both of them – Skype was first created for PC and thus prospered throughout the years, whereas Viber is new to the PC realm with its recent milestone of 200 million users.
All the benefits go on the side of Skype. It delivers far more quality in communication, whether it is audio or video, compared to Viber. In order to use Skype, there are variety of options, but basically you don't need a smartphone. Skype is easy to download

from the Internet (so is Viber), easy to install and use. The older generation use Skype very often to contact their family members that are on the other side of the country or the ocean with sharp audio and video transmission. They won't charge you a cent even if you choose to talk for hours.
To access Viber on a smartphone you only need the phone number. Viber for Windows requires an installation on the smartphone first, than it can be installed on PC. So, this limits the number of people who will be able to have Viber on their desktop. Skype however doesn't need a Smartphone to be operated, and we all know how many people on the planet own a Smartphone.
Over the years, Skype has earned the trust of its customers. It is never easy to earn that kind of trust in a world where software programs emerge almost every day. Skype is not the first communication software, nor Viber will be the last, so there is bound to be a form of rivalry between these two.
Quality is what will it come down to – free audio and video class, free messaging, and a few easy operating options will have partial role. Users don't mind if the contact list is on the left or on the right, they want quality picture and sound with no interruptions or cuts. Up until now, Skype still holds the best quality in communication via Internet. What Viber's answer will be, remains to be seen.