Brief introduction to the SkyDrive cloud storage
For everyone who owns Microsoft account, the company gives 7 GB of its cloud storage for free, although there was a time-limited promotion in the past when the lucky ones were able to claim their free 25 GB for life!
Microsoft, as other vendors who do business with cloud storage, offers a corresponding application "SkyDrive" available for desktop, iOS, Android and Windows Phone in order their users to be able to access, edit and share files from everywhere. Not to forget, this application synchronizes all files across multiple devices if they were previously connected to your account in cloud storage.
Cloud storage as option for backup
But, the question is, is this practical for people who use this free space in the cloud for storing and backing up huge amount of data from their computers instead keeping them? For instance, if you upload few gigabytes of data into the SkyDrive, it seemed not to be very pleasant to have them synced on your smartphone or tablet though.
And what about tech-people who use various scripts and tools for automating backups? Manual upload of every single file or folder one by one through the web interface is a time killer.
Well, if there is a way to find out how to map this online storage as local network drive, we are done!
Map SkyDrive as network drive in 5 steps
Luckily, there is one trick. We will use the feature "Save to Web" introduced in Office 2010 in order to get the link of our personal SkyDrive storage. By the way, you are not obliged to have Office 2010 installed on your machine. You may use virtual environment to install trial version or ask your friends for a favor.
Here are the 5 steps:
Step 1: if you don't have a valid Microsoft LIVE account, open one free here


Step 2: Open Microsoft Word 2010 and then in the File menu go to Save & Send > Save to Web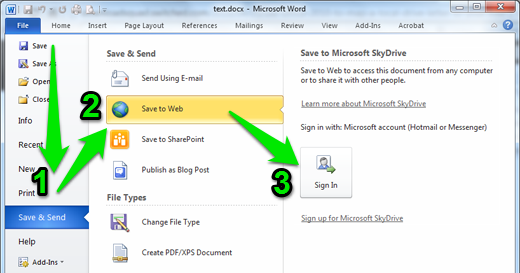 Step 3: Click the Sign In button and authenticate with your Microsoft LIVE ID account. If it is successful you will see preview of your SkyDrive folder: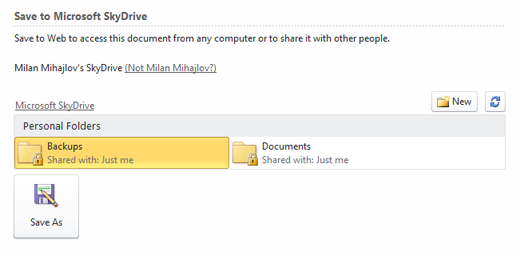 Step 4: Click Save As and you will be asked again to authenticate yourself: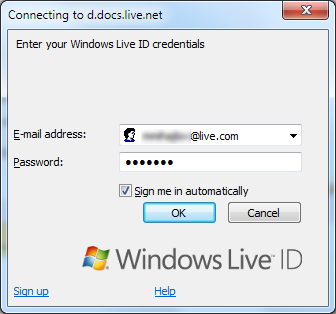 Then, immediately after this, a 'Save As' window will ask you to save the file: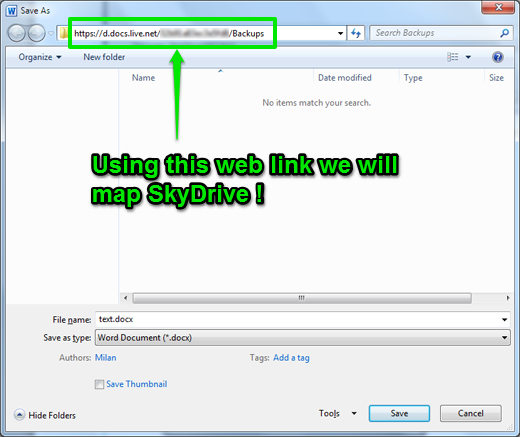 The trick is to look at the Address bar and to notice the web link. COPY (Ctrl+C) this link, then click Cancel to close the window.
Step 5: In this step you will create mapped network drive with a previously copied web address as UNC path (PASTE the link without changing it):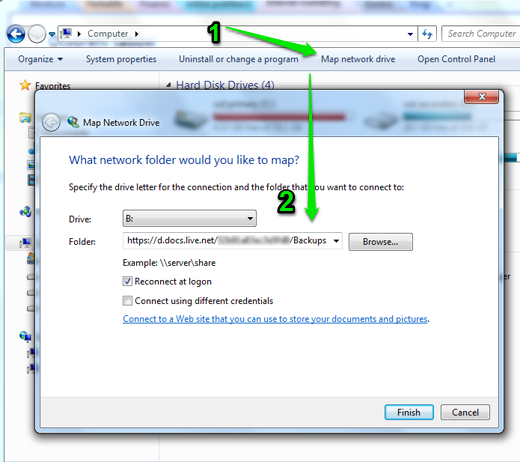 Click Finish and it will attempt to connect to Windows LIVE (if another window prompts, enter your Windows LIVE ID credentials again).
If everything is correct you will see your SkyDrive folder in Windows Explorer as a mapped network drive.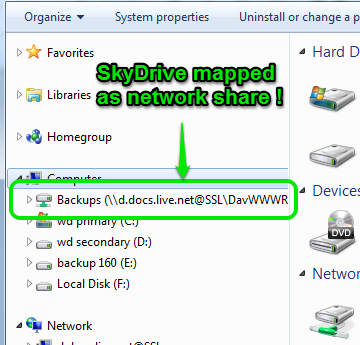 Comparing to SkyDrive application, this approach is maybe more complicated for initial setup , but it is good because you can move all files to the cloud without keeping them locally. Contrary to this, the SkyDrive application mirrors the files from computer to your personal cloud storage. Additionally, if you are proficient with scripts, you may use scripting methods to automate the file transfers.