What are your options?
Windows 8 is already available on the market and you are probably wishing it for yourself. There is couple of options available:
1. To install Windows 8 over your existing OS (upgrade option);
2. To install windows 8 alongside your existing OS (or dual-boot option);
3. To buy a new PC with already pre-installed Windows 8;
Either you consider the "upgrade" option or "dual-boot" option, you would want to know is your current PC going to be compatible with Windows 8 or not. Even more, are your printers, scanners and other connected devices going to be compatible with it?
The tool you'll like it
You can check this if you download and run Microsoft's Upgrade Assistant. Although it is originally developed for customers who decide to perform upgrade of their current OS to Windows 8, you may receive valuable information even if you go with the option to install Windows 8 as a fresh copy (in the first instance, it will tell you is your hardware compatible).
Hardware requirements
Before we continue, let's see briefly what are the hardware requirements in order for Windows 8 to run properly:
| | |
| --- | --- |
| Processor (CPU): | at least 1 GHz with support for PAE, NX and SSE2 |
| RAM: | at least 1GB for 32-bit OS or at least 2GB for 64bit OS |
| Hard Disk: | at least 16GB free space for 32bit OS, or at least 20GB free space for 64bit OS |
| Graphic card: | every new generation graphics card which supports Microsoft DirectX 9 with WDDM driver |
Upgradable OS's
Operating systems upgradable to Windows 8 are:
– Windows XP (with SP3);
– Windows Vista;
– Windows 7;
How the process is going?
What Upgrade Assistant does actually, it scans all your apps, hardware and connected devices (such as printer, scanner, monitor and other peripherals) to check whether they will work with the new OS. But not only that – as well compatibility for new features introduced in Windows 8 for first time, it will serve as a manager and offer an option to order Windows 8, to assist with the payment procedure, it also has a built in download manager. All in all, very useful tool.
After a couple of minutes, as soon as the checking-procedure is finished, following screen will appear: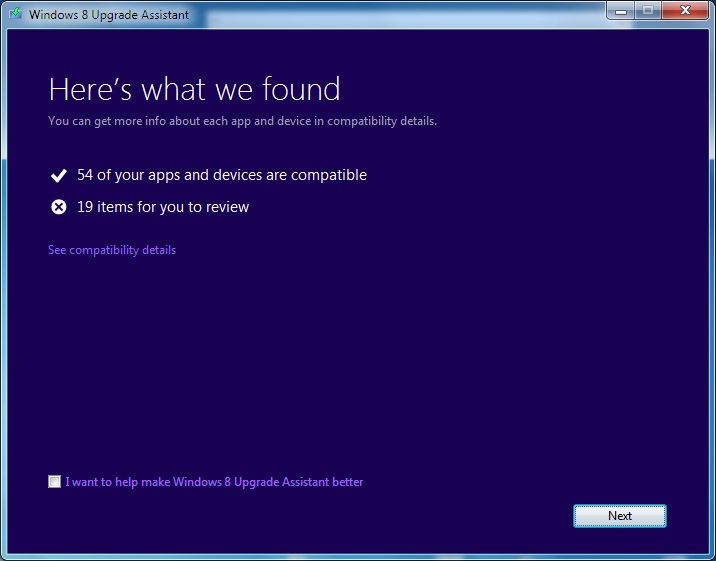 Click "See compatibility details" to review full report of compatible and incompatible software and hardware components.
In my case, you may see partial list of incompatible hardware and software components: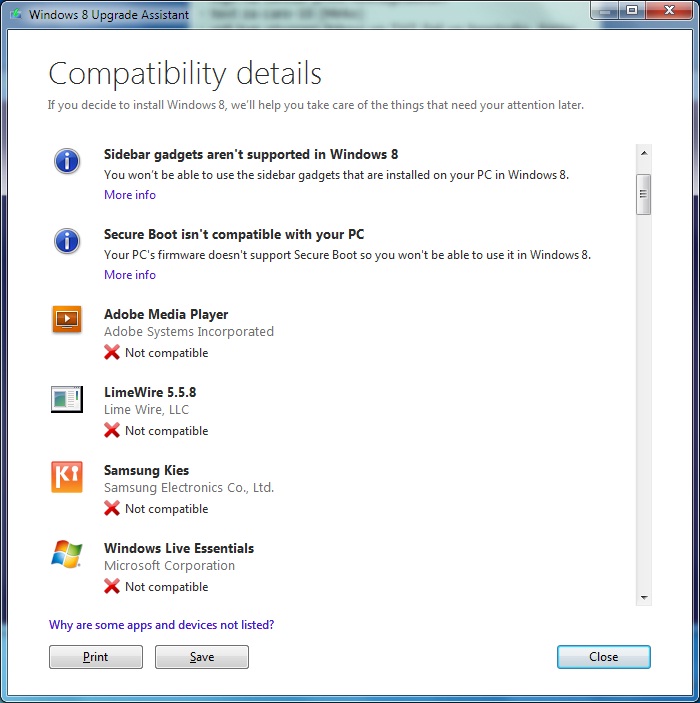 And also list of compatible ones: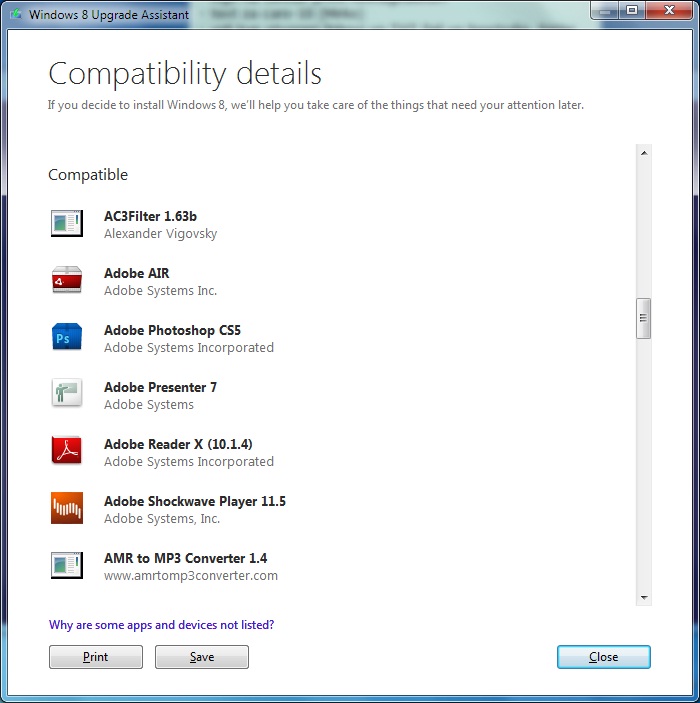 There is a possibility that you won't see all your hardware components and software in the report. In that case you should refer to Microsoft's Compatibility Center and check them manually.
In the next phase, Upgrade Assistant will ask you what you would like to preserve:
– Windows settings, personal files, and apps;
– Just personal files;
– Or nothing;
Anyway, if you are currently running Windows 7 you will be able to successfully transfer all your apps and data to Windows 8. If you are running XP or Vista, most likely you will need to install your apps again.
Instead of conclusion
If you are satisfied user of Windows 7/Vista/XP and you have valid license, it is strongly recommendable to upgrade to Windows 8 PRO. Why? Simply because Microsoft is offering you to upgrade to PRO version for just $39.99! And it is time limited offer – it is valid until January 31, 2013.
Also, not to mention that upgrade procedure through Upgrade Assistant is straight forward and very easy.
But, be careful. This license is valid only if you are upgrading existing Windows installation.
If you want to install a fresh copy of Windows 8 on an empty machine, you are supposed to purchase different type of license.