For email heavy users, this problem is obvious. We may mistype the email address of the person we want to send an email to, and the email message instead of ending up in a right mailbox it either finish its journey as undeliverable message or even worse in a wrong mailbox.
As the matter of fact, this wrong email address is being remembered by Outlook and can stay a bit longer, except you find out how to remove it.
Considering that in most businesses Microsoft Outlook is most commonly used email client, this guide will give you solution how to remove a wrong email address or make necessary corrections to the Auto-complete list.
How to remove single address from auto complete list
These instructions apply to Outlook versions 2003, 2007 and 2010.
Step 1: assuming that your Outlook is opened, open New email message.
Step 2: start typing the wrong email address. As you are typing, potentially more email addresses will show up in the list.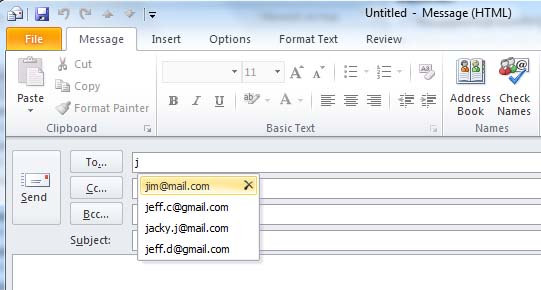 Step 3: using the UP and DOWN Arrow keys on your keyboard, select the wrong email address and just press Delete (Del) on the keyboard (do not press Enter nor TAB key).
If you need to delete more email addresses just repeat steps from 1 to 3.
How to remove entire auto-complete list in Outlook 2003 and 2007
Outlook versions 2003 and 2007 are keeping all entries from auto-complete list in a separate file with an extension .NK2 (the name usually is Outlook.NK2) and it can be found here:
For Windows XP: "C:\Documents and Settings\%username%\Application Data\Microsoft\Outlook"
For Windows Vista/7: "C:\Users\%username%\Appdata\Roaming\Microsoft\Outlook" (copy and paste this link in the Run dialog box, then press Enter).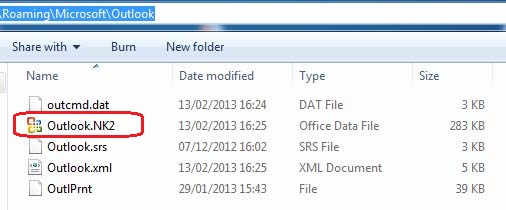 Just delete this NK2 file while Outlook is closed.
How to remove entire auto-complete list in Outlook 2010
As for Outlook 2010, NK2 file does not exist because Outlook 2010 is maintaining this list in a different way.
The simplest way to empty Auto-complete list is this:
Step 1: from File menu go to Options.
Step 2: Click Mail and scroll down to "Send messages" section:

Step 3: Click on "Empty Auto-Complete List". If you want to prevent Outlook to cache email addresses further more, then untick "Use Auto-Complete List to suggest names when typing in the To, Cc, and Bcc lines".
Remove/Edit Auto-complete list by using utilities
Fix It: Utility developed by Microsoft. Download it here.
Outlook NK2 Edit: Download it here

. Third party utility able to do various types of operations to the NK2 file. Some of them are:
modify or fix all information stored in the NK2 file, including the display name, the email address;
remove unwanted single quote characters from the display name and from the Drop-Down list;
Delete unwanted emails, as well as add new emails, by typing them manually, or by choosing them from the address book of Outlook;
Copy NK2 records from one NK2 file to another;
Build a completely new NK2 file and add the desired emails into it;
Extract data from corrupted NK2 files that Outlook cannot read anymore;
and a lot more.