If you are into smart home devices and you want to buy a new air conditioner, you will probably know what to choose. But, the question is what to do if you already have an air conditioner that you have purchased before the era of smart home devices? You would probably want to control your air conditioner with your phone, set schedules for cooling and heating, enable geofencing, improve your comfort and save energy. In other words, all functionalities that are shipped in modern smart air conditioners.
One of the first questions that will come to your mind is "How Do I Make my Air Conditioner Smart"? In order to make your old air conditioner smart, you will need a separate device called "Smart AC control", also known as "Smart Air Conditioner controller". This device uses infrared technology and can mimic the regular remote control. On the other side, it is WIFI enabled and you can access its interface by installing a proprietary application on your phone. This application makes it possible for you to control your air conditioner remotely using your phone and also brings smartness to your old AC. This is the most efficient way to turn the old air conditioner into a smart air conditioner.
I will explain all of this little more.
What is a Smart AC Controller?
A smart AC controller is a device that uses infrared technology and is able to manage the air conditioner similar to the common remote control does. Unlike the common remote control, this smart AC controller is WIFI enabled and is enriched with almost all the features as the modern smart air conditioners. The smart AC control is usually placed near the old air conditioner, therefore it has a direct line of sight to the air conditioner.
On the other hand, the Smart AC Control is connected to your home WIFI and it exposes all its functionalities through a mobile app that you can install on your phone, which now becomes your new remote control. In simple words, the smart AC controller acts as a bridge between your old AC and your phone. The fact that it is connected to your home WIFI network, gives you the freedom to control your AC from wherever you are and utilize all of its smart functionalities.
Can I control Smart AC controller with my phone?
Yes, you can control the smart AC controller with your phone. This is because all smart AC controllers come with a proprietary mobile application that you will install on your mobile phone. On the other side, the smart AC controller is connected to your WIFI meaning that it is reachable over the Internet. Either from your home or from your workplace, you have a direct insight into the ambient conditions in your home, therefore you can manage the temperature levels, set schedules, etc. based on your preference.
Can I control Smart AC Controller with Google Home or Alexa?
Most of the Smart AC controllers available on the market are compatible with Google Assistant, which means you can integrate them with Google Home app.
But they are not only compatible with Google's technology. At the same time, they are compatible with Amazon Alexa, which leaves you the most of the options open to choose how you will use them.
Does Smart AC Control improve energy savings?
According the US Department of Energy

, you can save an estimated 10 percent a year on heating and cooling costs by just using a programmable thermostat. And this is a conservative estimate because some of the manufacturers estimate energy savings up to 25%, which means lower energy bills.
The modern smart AC controllers have embedded temperature sensors and you can set schedules to turn the air conditioner ON or OFF if they reach the defined temperature levels. In other words, the smart AC controller acts as a programmable thermostat that you can configure based on your heating/cooling needs.
How to know if your old air conditioner is compatible with a smart AC controller?
Maybe you are tempted to convert your old air conditioner to a smart air conditioner, but the first thing you need to do before making a final decision is to see whether the potential smart AC controller will be compatible with your old air conditioner.
Some manufacturers provide simplified guides by referring to the remote control, whether it has a full state display, or whether it shows temperatures only, or it doesn't have a display at all. Tado Smart AC Controller is an example of this

.
Some manufacturers, like Atomi Smart, claim that their Smart AC Controller is compatible with all air conditioners with remote control.
However, there are manufacturers who offer pretty detailed information in terms of compatibility, such as Sensibo. They have a dedicated web page

where you just type your AC model and you find out right away whether it is compatible with your air conditioner or not.
Cielo is another great example with a dedicated web page where you actually can look through the exact remote model

.
If by any means you are not sure whether your AC model is compatible with your preferred smart AC controller, you can always contact their support team and ask them directly.
Best Smart AC Controllers
Although the market of smart devices has been exploding in the past few years, and every day something new is being manufactured, I have hand-picked four smart AC controllers that are ruling the market, as of now.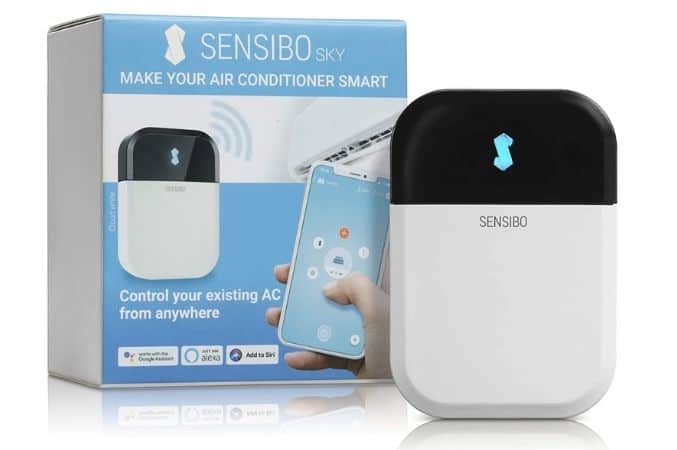 Sensibo Sky is a smart AC controller that is highly popular nowadays. It is compatible with most of the air conditioning models such as Split ACs, Mobile ACs, Windows ACs, and Central ACs. It has built-in temperature and humidity sensors which especially come in handy when you want to monitor and control your AC from the phone, any time, and anywhere.
You can enjoy a complete range of smart features like location-based control (also known as geofencing), setting weekly schedules, energy saving as a result of the optimal usage, controlling the AC using Google Assistant, Alexa, and Siri shortcuts. Climate React is a new feature that you can use to protect your home and air conditioner system from extreme temperatures and humidity levels. By setting triggers you can change the climate in your room based on temperature, humidity and comfort parameters.
Another benefit is that Sensibo has an extensive open API, with many extensions and integrations created by the community for SmartThings, OpenHab, Homebridge (for HomeKit) and more. Sensibo also works with IFTTT which means you can create a variety of recipes and new automations.
Sensibo Sky

is a product with many positive feedbacks from the community. You can check the user reviews and the latest price on Amazon by following this link

.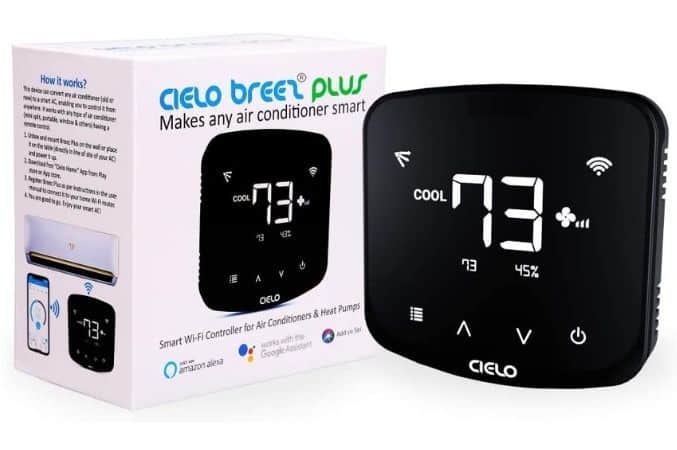 Cielo Breez Plus is another great smart AC controller. It works with mini-split, portable ACs, and Window ACs that come with an IR remote control. After you connect it to your WIFI, you will be able to control the old AC using your phone by installing the proprietary mobile application. In fact, after the initial registration that has to happen through the WIFI, you can control your AC even without WIFI by simply using the on-device local controls. This is a very good feature because if you share, let's say, your apartment with other family members, they can control the AC without the need for your phone. Support for Google Home, Alexa, Android, iOS goes without saying.
Setting up weekly schedules and configuring location-based controls for automated operation are some of the features that come with this product, as well. Optimizing the working time of your AC leads to more energy savings, which ultimately results in lower energy bills. According to the manufacturer, Cielo Breez Plus can save up to

25% on your AC's energy bills.
For the latest price and availability you may check this link on Amazon

.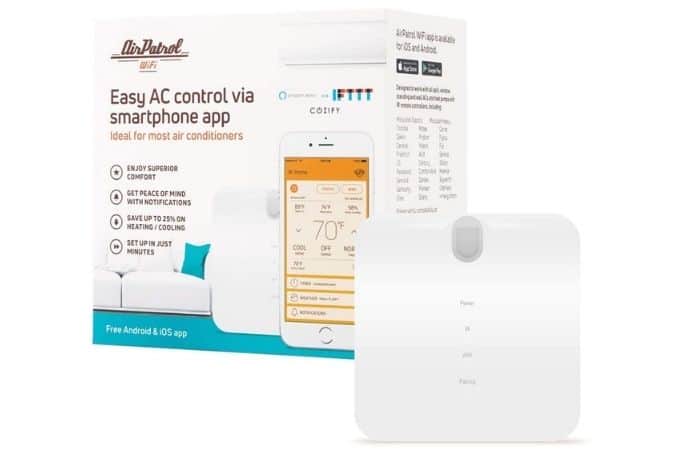 AirPatrol WIFI V3 is the latest controller model manufactured by this famous Estonian brand

. All their products have been thoroughly tested in harsh Scandinavian conditions, followed by very positive feedback from the customers.
As a standard feature for this type of devices, you can control this smart AC controller by installing the appropriate mobile application, either on Android or iOS. AirPatrol can turn off your AC when your desired temperature is reached, or as soon as you leave the house. It is also equipped with temperature and humidity sensors. For each change of these parameters that pass the defined threshold, you will receive a notification on your mobile phone.
It works with Alexa, Google Assistant and IFTTT. It supports more than 10,000 different AC models and heat pump models, and the new ones are being added constantly.
Check the availability and the latest price by following this link

on Amazon.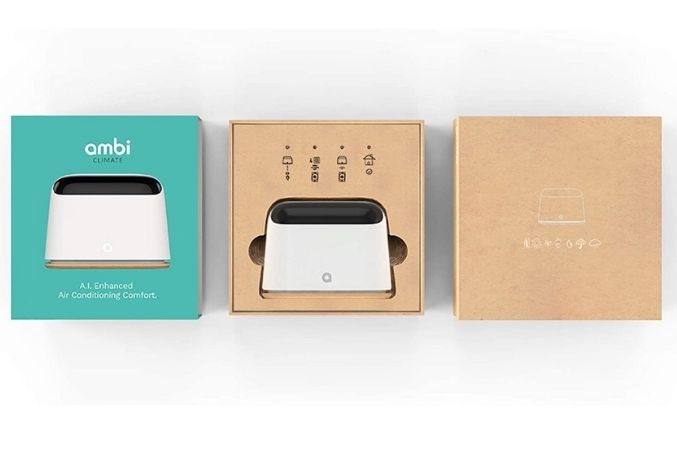 Ambi Climate 2 is a smart AC controller for window units, ductless mini-splits and any unit with a multi-function LCD-screen remote control.
The smartness in this AC controller is supported by a robust artificial intelligence engine and it helps it quickly learn your habits. Automation that stays behind this product, gives you continuous comfort all day. Providing more frequent feedback to the smartphone app, especially in the beginning, helps this smart AC controller to learn your habits even faster.
Not to mention that this AC controller conserves energy and offers a variety of smart modes and unlimited timers that will help you create a personalized comfort. By leveraging the voice control through either Google Home, Alexa or Siri, the comfort becomes even better.
Check the availability and the latest price by following this link

on Amazon.
Best Smart AC Controllers – Comparison Table
| | Sensibo Sky | Cielo Breez Plus | AirPatrol | Ambi Climate 2 |
| --- | --- | --- | --- | --- |
| Temperature sensor | Yes | Yes | Yes | Yes |
| Humidity sensor | Yes | Yes | Yes | Yes |
| Geofencing | Yes | Yes | Yes, through IFTTT | Yes |
| Google Home/ Google Assistant | Supported | Supported | Supported | Supported |
| Alexa | Supported | Supported | Supported | Supported |
| Siri | Supported | Supported | Not supported | Supported |
| SmartThings | Not supported | Supported | Not supported | |
| IFTTT | Supported | Not supported | Supported | Supported |
| Energy savings | Up to 40% | Up to 25% | Up to 25% | Yes. Doesn't state how much |
| Mobile app compatibility | iOS, Android | iOS, Android | iOS, Android | iOS, Android |
| Schedules & Timers | Yes | Yes | Yes | Yes |
| Compatibility with old AC | Link | Link | Link | Link |