How many times you found yourself listening a nice piece of music but you are wondering what is the name of that song and name of the artist? Or maybe listening a new song which pretends to be a new mega-hit and you can't catch the lyrics? Or even more, you are in the middle of the dance floor having fun with your friends, some popular song is playing with no lyrics at all, you like the melody, and you can't guess anything about it?
Yes, we know – you want to hear it again at your home but you don't have idea how to find it and where to start from.
Fortunately, there is couple of effective solutions how to find out the name of the song.
In this article we will reveal to you how to find your favorite song using your smartphone.
Obviously, the most practical solution to find out the name of the song is to use your smartphone

. These days we can rarely meet a person who don't have a smartphone. Some of the smartphones already come pre-installed with specific mobile applications for music recognition.
For example, SONY smartphones come with preinstalled app called TrackID

. It's a tiny and relatively simple app that does its job.
How does it work? As all similar apps you just need to simply push the TrackID's button to start sound recording and to point your mobile device to the music source (probably speakers) as close as possible.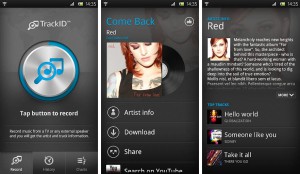 Here is one featured video which clearly explains entire process:
We tested this app on SONY Xperia MIRO

and we may say it's really accurate. Beside music track's recognition there are two more options available: History (with all previously recognized music tracks, and from here you can share them on social networks or search for a video clip on YouTube

) and Charts.
Considering that TrackID has certain constraints regarding the platform, one of the most famous mobile apps and perhaps one with a highest popularity is well known Shazam

.
This app is compatible on most of the devices and platforms like: iPhone

, Android

, Windows Phone

, BlackBerry

, iPad

. You can read more information about compatible devices here

.
How does Shazam work?
When you start the app you will see a big Shazam's logo on the screen. Just tap it and wait while it is recording the music. The process is very quick, it lasts approximately 5 seconds until final recognition.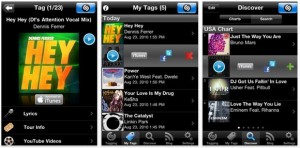 As a result you will see: Artist name, Song name, Album cover but also options like buying the song from Amazon

, sharing it on social networks

, watch it on YouTube, Tour Info, Recommendations and Discography.
Let's watch a short video how Shazam works on Android device:
Below is a comparison of how users have rated this APP on Google Play

in the moments of writing this article:
User ratings for TrackID:


User ratings for Shazam:

Apparently, Shazam appears to be more popular than TrackID. We as well have to confess that according to our personal experience, Shazam App seems to be more accurate and gives results much faster than TrackID App.
For Android based devices, you can download TrackID from here

and Shazam from here

 (basic version is provided for free).
For Apple devices, check AppStore here

.