Ever wanted to know when someone opened the email you have just sent? Or maybe to get feedback when recipient clicks a link inside the message? In a world full of possibilities, it may be difficult to choose an email analytics tool that perfectly fits to your needs. Some tools are available as freeware for home users, whilst some of them are built specifically for companies which need software for tracking sales and marketing campaigns.
In this post I am sharing with you a list of the most popular Gmail tracking software I have found across Internet.
1. Yesware

– this tool comes as free add-on for Chrome and Firefox. Deeply integrated with Gmail it gives a valuable insights each time your email was opened, a link was clicked or attachment was reviewed. It also shows the geo-location where in the world your email is being read. The free version provides a monthly limit of 100 tracking events. Follow-up reminders are available and it also can be integrated with third party CRM solutions like SalesForce, SugarCRM.
2. SalesHandy

– is among the rarest plugins that offers unlimited email tracking. Although this tool is primarily built for sales people, it can be used by anyone including the email addicts. It comes in 4 pricing models: Free Plan, Regular, Plus and Enterprise. Even the starting Free Plan gives you a possibility to track unlimited number of emails and unlimited email notifications.  With a click of a button, it can be easily integrated with Gmail

and Outlook

. If you are a salesman, you can create a team of up to 3 users and get the team activity on the Dashboard. Templates and Shared Email Templates are part of Email Automation that are available in the Free Plan.
3. Livehive

– With Livehive's Gmail integration

you can track email opens and attachments. Google Apps is also supported. The free plan provides tracking up to 5 prospects. 

4. Bananatag

–  comes as add-on for Chrome and Firefox. This tool seamlessly integrates with Gmail or Google Apps account, and tracks who opens and clicks links in the sent emails.  Free plan gives 5 tags each day which is 150 tags per month. Only basic notifications are provided with this plan. Read a full review about tracking Gmail messages

with this tool.
5. Contact monkey

– it comes as free plugin for Chrome

. The company claims this plugin is better than Gmail read receipts because the recipient is not required to confirm and submit read receipt notification to you (which basically is true). The free version provides tracking of 100 emails per month. Email tracking, link tracking, Real-time Analytics Sidebar, Real time Desktop Notifications, Detailed Dashboard – are some of the features which come in this package. It was built primarily for sales people, but it is also a solid solution for common people who need to know what is happening with their sent Gmail messages.
6. Right inbox

– it extends Gmail features to schedule emails to be sent later, easily setup email reminders and follow-ups and of course read receipts. There is time zone support if you send emails overseas, meaning that you can arrange the appropriate time of sending emails. Plugin is available for Chrome

, Firefox and Safari. Free plan provides 10 emails for scheduling and 10 email reminders – per month.
7. Mail track

 – is a free service which comes as Chrome extension

. Most interesting part is there are no limits – track as many emails as you want. There are no buttons, logos or ads – you simply hit the Send button and as soon as recipient opens the message you will see a green check mark next to the message.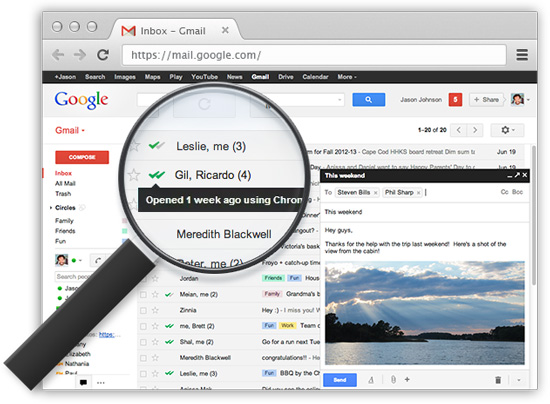 photo credits: Mailtrack.io
8. Sidekick

 (formerly Get signals) – this plugin was built by HubSpot primarily for sales people but that doesn't mean that non-sales people can't use it as well. It gives basic information when someone opens or clicks your email, how many times and from where. While you compose an email, you can see all the relevant information about the recipient: past contact history, social media content, mutual connections, etc. Free users can receive up to 200 notifications per month. "Schedule emails – write now, send them later" is feature that is coming soon.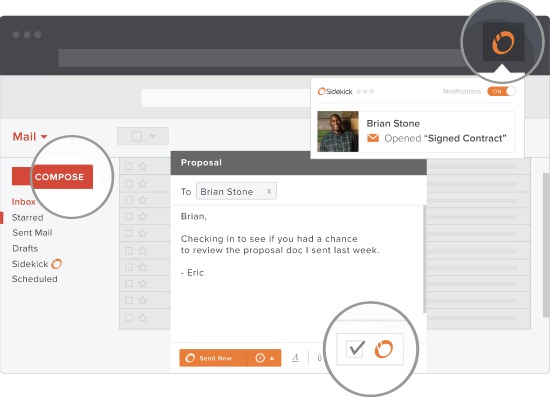 9. Boomerang for Gmail

– the free version of this tracking software gives only 10 message credits per month. Although it is equipped with options like Send Later, Boomerang Reminders and Response Tracking – read receipts and click tracking are not available in the free version. Chrome extension is available here

.
10. mxHero – comes as free Chrome extension

for Gmail for private users and also as extension for Google Apps

users. Surprisingly, there is no limit in number of tracked emails. Some of the available options include: unlimited tracking of read receipts, send later, clicks and attachments tracking, email reminders, self destructing emails. With all these options in-the-box it seams to be perfect tool for job seekers, entrepreneurs, compulsive emailers, productivity geeks and all others who want to take most of the Gmail.
11. Streak for email tracking

– a Chrome plugin which notifies you each time a recipient reads your email. Right next to every email there is either green or gray "eye ball" which tells whether the email is being read or not. The reader's location and device that is being used, are some of features in-the-box.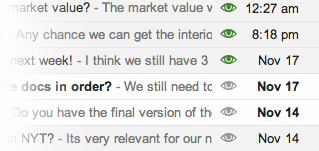 photo credits: Streak.com
12. OrangeDox for Gmail

– comes as a tracking tool for Gmail attachments, more specifically for files or folders attached from Dropbox. Namely, if you have a Dropbox account (or if you don't have, open a free Dropbox account here

), you eventually know that you can integrate

it with Gmail and afterwards attach Dropbox files without leaving your Compose window. This is the point when this plugin steps in – it gives you the analytics like who is viewing or downloading your attachments, which pages were read and for how long and it also sends notifications when your documents are viewed or downloaded.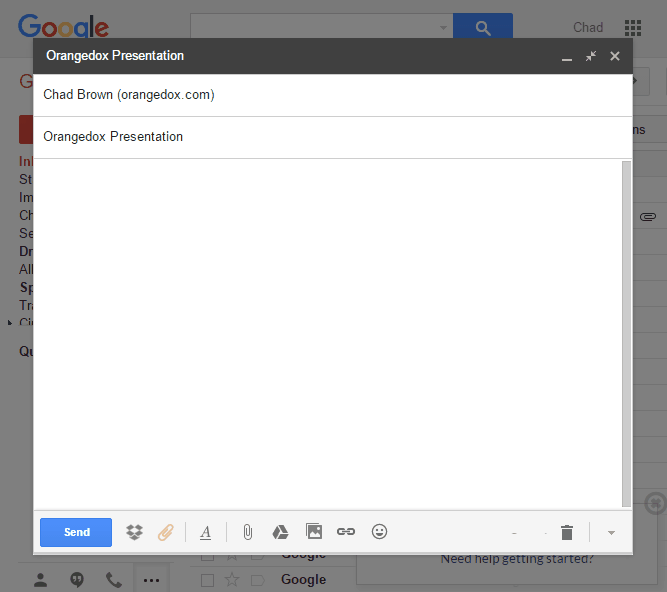 What is your favorite Gmail tracking tool? Share your thoughts in the comments section or join discussion on our social profiles.