I was asked by my friend to help him with filling up a new website with content before its official release to the public. Actually, the existing version of the website was not satisfying because of several reasons and therefore a new and improved version of the website was required. Fresh look and new CMS

are part of this reasons.
Due to incompatibility between the old and new CMS, there wasn't an option to seamlessly move the website content from the old version to the new version, and we had to manually move all content including news and image galleries. My part was to move the pictures. Luckily, all pictures were already posted on the website's Facebook fan page, practically they were mirrored.
Faced up with more than hundred albums, I saw that I will need a tool which can automate Facebook albums

downloading, rather than download them manually and screwing up the weekend.
Facebook pictures downloader
Since my preferred Internet browser is Chrome

, I started searching through the Web store for Chrome extensions which can manipulate Facebook photos. I discovered "Album Downloader for Facebook

" and despite its popularity (almost 50 K users) I read in the user comments that is big fake because there are ads injected into it. Then I came across "Download FB album mod

" and again I read that it does a big mess with the pictures.
Even the "Facebook Album & Photo Manager

" – which is Chrome extension with over 80 K users, was reported as fake in the recent user comments.
After all, I gave up with Chrome and switched to Firefox :). I needed a simple tool which can:
– automate Facebook pictures downloading
– create folders for Facebook albums, merge and update existing albums
– numerate Facebook pictures.
– option to skip existing albums
Picture batch processing tool
Finally I found out Facepaste

, a Firefox add-on for downloading Facebook albums. After the installation just go to your photo albums section and right-click anywhere.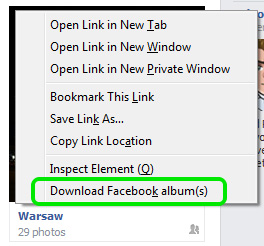 This screen follows: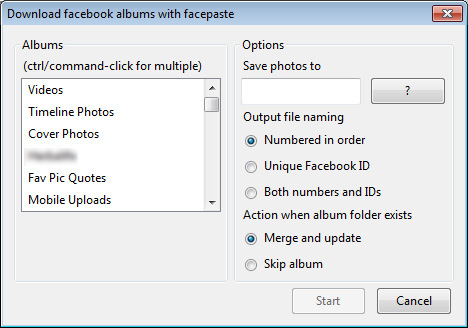 It may take a while before it reads out all albums, especially if there is a large number. With CTRL+Click you can select precisely which albums you want to download. Next, press the Start button, sit back and relax.
There is also a monitor window: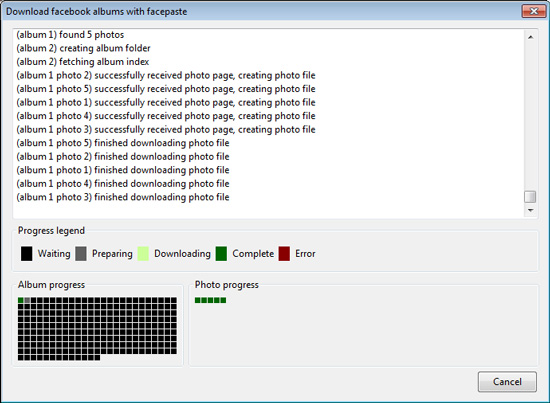 Black squares represent the number of albums and green squares number of processed pictures. Simple yet powerful add-on.
The only disadvantage is it can't download "Photos of you" pictures. Hopefully, this will be fixed in the next release.
What is your favorite tool? Share it in the comments.