Imagine you had an awesome hangover last night, and you can not remember where you left your smartphone! The question is: What to do?
If this happens to you or you have a friend who loses their android phone quite often, then you might recommend them a tool to easily track down the lost smartphone. Google offers their original Android Device Manager

– available as a web service and Android app

available through the Play Store.
Basically, this application is built to easily track your smartphone location, to lock smartphone remotely or eventually, erase all data stored within.
Setup Android Device Manager in 3 easy steps
Step 1: Associate your Android device with your Google account
This is the first step after you buy a new Android device. The first time you open Google Play app, it will ask you to add existing Gmail account or create a new one which will be associated with your device.
Step 2: Set up Android Device Manager
Turn on the Wi-Fi and Location services (or Global Positioning System – GPS) on your device. Go to https://www.google.com/android/devicemanager

and log in with your Gmail account. On the splash screen, click the Accept button. You will see all your registered devices listed there and the last time they appeared online.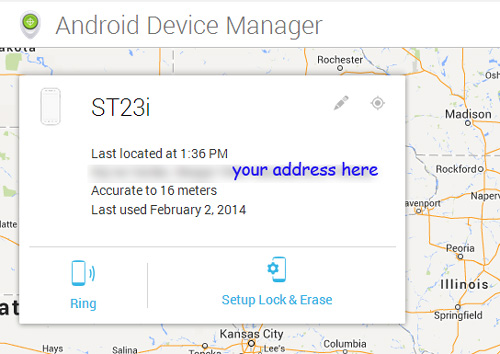 Step 3: Click the "Setup Lock & Erase" option
It will send setup notification to your smartphone. If this does not work, then go to the Google Settings on your device and tap Android Device Manager. Mark the option "Allow remote lock and factory reset"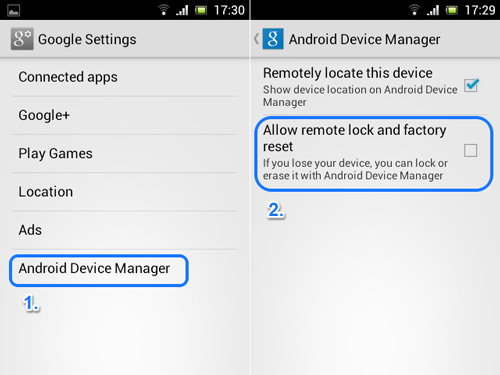 Then, tap the Activate button. This gives the app an unrestricted access to all security features of the phone.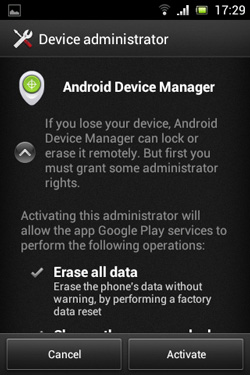 Available options
Go back to the Android Device Manager web address and click on the refresh button (F5). The preview window will slightly change: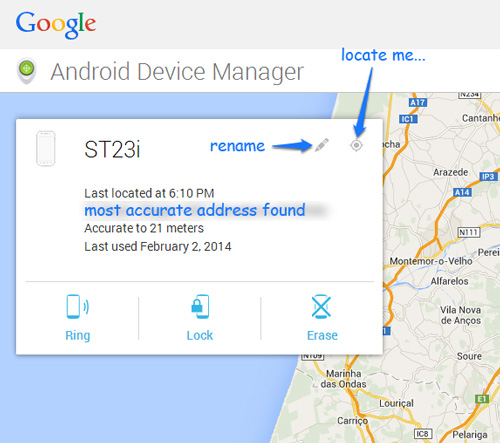 You have a couple of available options:
1. Rename the device – choose the new name you want for your device. As simple as that.
2. Locate device – gives back the current location of your device, supposing it is online.
3. Ring – in case you forget where you left your phone, it will ring for 5 minutes, even if it is in silent or vibrate mode.
4. Lock – this option remotely locks the phone, by setting up password lock for the screen.
5. Erase – this option will remotely reset your phone to factory defaults. It means that all your data, including apps, photos, phone settings and music, will be deleted from the internal storage. If you have data stored on external SD card, it will remain untouched.
Manage more Android Devices from one smartphone
If you own several android devices (another smartphone, tablet or so) and you want to manage them right from your smartphone, then you will need a mobile version of the Android Device Manager available in the Play Store. Basically, it uses the same visual interface as the web version. You will need to register all of them first.
Constraints of Android Device Manager
As for now, all of the above mentioned options will work only when your device is online (find a good data plan to put the phone online 24/7). If your device is stolen, with a little luck, you may locate or eventually erase your personal data before the robber resets your smartphone and goes away with it. One thing that might be missing is the option for picture capturing and sending a photo to a preconfigured e-mail address. Regardless of whether this option is a part of some security application or of the phone itself, it could help a lot in tracing your stolen phone!
For more options visit Google's help center