Recently Dropbox introduced new features, promising that will be easier to view, organize and share photos and videos online.
For all Dropbox admirers, just visit https://www.dropbox.com/photos/features

and sign up for early access. In less than a week you will receive an email notifying you that you are able to start with web albums.
After you sign into Dropbox, in the left upper corner you'll notice the Photos link

.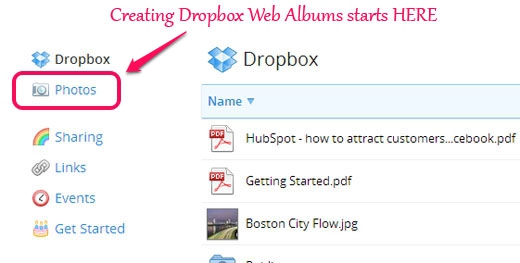 Here you will see all available photos sorted by date in descending order. Just to mention that only photos nested under Photos folder will be considered for creating web albums, regardless whether they are placed in another subfolder or in the root folder. The processs is very user friendly and it starts with selecting the desired photos you want to put in an album – it's easy like 1, 2, 3. Immediately, contextual call-to-action menu appears. You get it.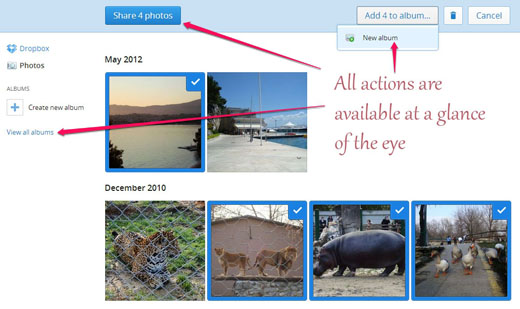 Before this new approach with Web Albums, we had to put the pictures we wanted to show to the friends into a separate folder and send them the link of an entire folder. Now, with the Dropbox Web Albums feature, we have freedom to group specific photos from different folders and to create custom web albums.
Sharing the web albums is available through email, Facebook and Twitter.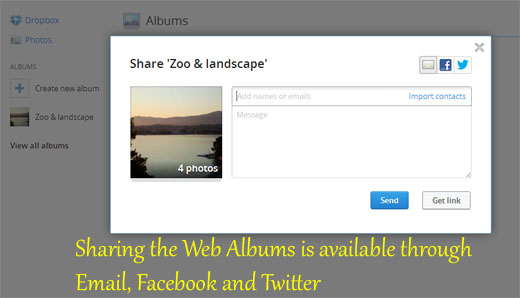 Don't have a Dropbox account yet? Follow this link

and get free 5GB online storage.