People are very visual creatures and this is reflected in the way Internet users perceive content they come across. They are more likely to send or share a video

, infographic or other visual information, than textual content.
Digital photos are a big part of this visual communication across the Internet. An average computer user has a folder full of photos from travels, social gatherings and other events. Internet users constantly pin, save and share photos

they come across and like. Experienced website and blog owners always complement their articles with attractive photos to attract more visitors.
Commonly used image formats
The most commonly used image file formats are JPEG, GIF, PNG, TIFF and BMP. All of these formats have their negative and positive sides that make each of the formats more suitable than others in specific situations. For example, JPEGs are excellent for storing photographs because they retain the widest variety (millions) of color nuances.
Though they contain only 256 colors, GIFs are excellent for creating graphics without too many color variations such as logos or line illustration, and they are popular for making fun GIF animations. PNG is an advanced alternative to GIF that offers more options to users, like transparency and a wider range of color modes.
TIFF boasts the best image quality, but the biggest size, which is why it can't be easily transferred and it can't be viewed on the web. BMP is native to the Windows platform and is often used when editing images.
Many users save their images in PDF, either because the format helps them compress images without compromising quality, because PDFs are perfect for printing or because they can be opened on any device, OS and in any browser.
However, this format is non-editable, so when people want to modify and customize their PDF images, they need a reliable PDF converter.
PDF converters are also useful when users have images embedded in their PDF presentations or other types of documents that they want to convert, customize and use for different purposes.
Software solutions for converting PDFs
Able2Extract PRO is among the best tools for converting PDF images because it allows users to easily and smoothly extract their PDF images and convert them into any of the five most commonly used image formats. It also allows users to tweak and customize their photos prior to conversion, so that their output file is ready for uploading on social networks, embedding on a website, sharing via photo albums, etc.
In addition to that, the tool can also convert scanned images, which makes Able2Extract Professional a complete PDF image management solution.
The following tutorial will show how easy it is to convert PDF images into image file formats.
First open the PDF file you want to convert. You can open an image saved in PDF or any PDF document that contains images that you wish to extract.

Select "All" if you wish to convert the whole file.
Select "Area" if you want to extract an image from a larger PDF document.

Click the "Image" tab.

Set your image preferences in the "Convert to images" box that will appear: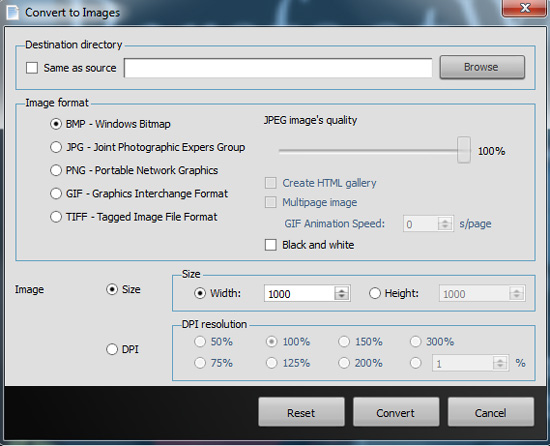 Browse through your destination directories to choose where you want to save your converted file.
Choose the file format you want to save it in, depending on how you want to use the image.
If you choose JPG, you have the option of tweaking with its image quality.
Choosing GIF will allow you to create GIF animation and set its speed.
You can also create a HTML gallery.
Choose image size or DPI resolution, and you're all set to convert your file.
If you wish, you can continue playing with the file using other software that allows additional tweaking, like running the photo through filters, adding different effects, etc. Or, you can use it right away as a nicely polished update to your social profile, blog, etc.