What is BOX?
BOX is cloud based platform for online file sharing and it allows you to access your content at any time from any Internet enabled devices such as: smartphones, tablets, computers, laptops, TV and so on.
It supports various types of files such as: videos, music, documents, presentations, applications etc.
Who qualifies?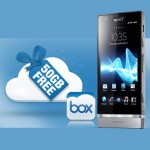 If you are proud owner of Xperia smartphone or Sony tablet, you still have the chance to grab your FREE 50 GB cloud storage for life!
Although this promotion was initially started on December 15, 2011 – couple of days ago Sonymobile announced on their News blog that they have extended their partnership with BOX until the end of 2013!
However, this promotion for getting free 50GB cloud storage is valid until December 31, 2012. So, hurry up if you qualify!
According to BOX's FAQ's page, following devices are qualified until December 31, 2012:
– LG Android phones and Tablets;
– Sony Tablet S and Tablet P;
– HP TouchPad;
– RIM PlayBook;
– All Sony (Ericsson) Xperia Phones released after Xperia X10 with Android versions 2.1 or above.
As for other Android phones and Tablets, the promotion has ended.
How to get this free cloud storage?
All you need to do is to visit Google Play Store, download box mobile app and log into the BOX from your Android device. If you are not registered yet, process is simple and it is a few clicks away.
Once you log in and access your BOX profile from your smartphone, you will be automatically awarded with 50 GB free storage and you'll see a confirmation message on the screen. And the most important, this free storage is for life!
What happens with Apple devices?
As for Apple devices, the promotion for 50GB has ended but BOX still gives satisfying 10 GB FREE + BoxSync, and this is twice more than the basic plan of 5GB for personal use. So, don't miss the chance and go apply before December 31, 2012.
The procedure is same as for Android phones, just visit AppStore and download BOX for iPhone and iPad. Then log into your BOX account from one of these devices and claim the free storage and Box Sync. You will get 10GB immediately and Box Sync will be activated in the next 48 hours.